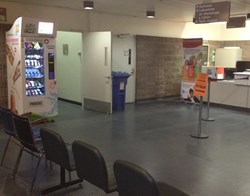 Montreal, Quebec (PRWEB) September 30, 2013
Canadian Healthy Vending is happy to announce that The University Institute of Cardiology and Pneumology Quebec (IUCPQ) in Quebec City, QC is the first medical facility in the province to host a Max! Healthy Vending Machine.
Distribution Nutrimanix combined efforts with a hospital nutritionist to ensure the best possible match between the products offered in the healthy vending machine and the heart healthy foods recommended by staff to clients who visit the IUCPQ. Our menu has been approved by a hospital nutritionist specializing in cardiopulmonary rehabilitation, reported Distribution Nutrimanix. The centre helps people who are faced with heart, lung or obesity-related conditions put strategies in place to improve their health. They are supervised by a qualified interdisciplinary team composed of nurses, kinesiologists and nutritionists. They are proud that the patients who visit can buy healthy food and refreshments there. The options in the Max! Healthy Vending machine match the healthy living principles patients learn from the professionals who work there. Currently, the healthy snacks offered include sparkling water, fruit, nuts and others.
Distribution Nutrimanix has strong community ties in the area and has arranged, in conjunction with the IUCPQ, for a portion of the sales from the machine to go to a fund for the Quebec Heart and Lung Institute. Since locating the machine at the medical facility, the company has gone on to arrange for four Max! Healthy Vending Machines to be placed at sites managed by the Ville de Montr