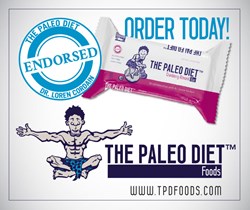 Fort Collins, CO (PRWEB) October 04, 2013
The Paleo Diet Foods is pleased to introduce our flagship product, The Paleo Diet Bar, the only nutrition bar exclusively endorsed by Dr. Loren Cordain, the worlds leading expert and founder of the Paleolithic movement.
"There are so many products that claim to be Paleo, but simply are not, said Dr. Loren Cordain. When you're approached by local, friendly, hardworking, and honest people with a recipe that carries nutritional weight and is scientifically sound, you take the guesswork out of eating healthy and adopting a contemporary Paleo Diet."
The Paleo Diet Bar is the optimal eat for the high intensity hunter-gatherer lifestyle. Matchless to any other protein or nutrition bar on the market today, The Paleo Diet Bar contains 17g of egg white protein, all 9 essential amino acids, is gluten-free, dairy-free, soy-free, and preservative-free.
Natural ingredients are at the foundation of all products, rich in high-quality protein sources. Some brands cut corners, but The Paleo Diet Foods are breaking limits and going the extra mile to blend a perfect balance of nutrients to promote health and wellness.
The Paleo Diet Bar is a game changer in the food nutrition bar market, said President and Co-Founder Shauna Sledge. It's a raw nutrition bar containing fruits, nuts, berries, seeds, and egg protein, which makes it as even in proportioned energy sources of carbohydrates, fat, and protein that a nutrition bar can get, meanwhile maintaining great taste and a stable shelf life.
There is no room for excuses, only healthy, delicious food. Getting The Paleo Diet Bar on the map will set the stage, but The Paleo Diet Foods strive to be the frontrunners in the ancestral health and foods markets, developing a reputation for quality and uncompromised products.
We eat clean at home and try and show our kids good food choices, said President and Co-Founder Todd Sledge. I know with how busy we are, we wouldn't have the energy to do nearly as much without proper nutrition. Meanwhile, our one year old son, Skyler eats Paleo, and he is so healthy and happy. Our kids and their friends taste test every recipe. We figure if its nutritious and kids will eat it, everyone will.
The Paleo Diet Bar provides superior nutrition and is intended to provide all of the necessary nutrients to function as a healthy meal substitute. Bar varieties include Cranberry Almond and Cinnamon Raisin with more flavors and products coming soon!
The Paleo Diet Bar at a Glance