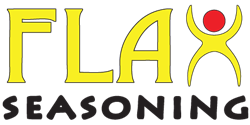 Arlington, VA (PRWEB) October 06, 2013
The owner of Flax Seasoning, Darren Baker is fortunate to have a twin, Dion Baker, who mirrors more than just his looks, they also share an entrepreneurial spirit. One has a health food business, Flax Seasoning, and the other has a creative leadership and branding business, Dion Baker Enterprises. The twin brothers have combined their talents to improve the branding of Flax Seasoning and help it become the premier healthy spice blend on the market.
"It's always a great thing when you can synchronize business efforts as a family," says Darren Baker, Chief Health Nut (President) of Flax Seasoning. Dion Baker, the Creative Leader of Dion Baker Enterprises and the twin brother of Darren, adds, "Even though we both have our unique talents and skill sets we both share a passion for living a healthy lifestyle so it's fun to be able to contribute towards the growth of Flax Seasoning."
Flax Seasoning is a Virginia based health food company that develops innovative spice blends with a healthy twist. It has recently announced its partnership with Dion Baker Enterprises to update its graphics as part of its effort to improve its branding strategy. "We are in the process of improving our product labels and marketing materials and are happy to continue our partnership with Dion Baker Enterprises to help us meet our goals," says Darren Baker.
Dion Baker Enterprises is a North Carolina based company that targets small to medium sized businesses. They strive to provide their clients with a strong professional image and appropriate branding, and set themselves apart by empowering clients through workshops and training. Its founder, Dion Baker is very excited to be working with Flax Seasoning. "We have been able to make continuous improvements with Flax Seasoning as their business has evolved and their needs have changed" says Dion Baker.
The twin brothers are both rising entrepreneurs using their businesses and talents to contribute to society in meaningful ways. You can find out more information about their businesses at http://www.dionbaker.com and http://www.flaxseasoning.com.
Flax Seasoning LLC is a Virginia-based health food company pioneering innovative spice blends with a healthy twist by combining flax seeds with unique spice and herb combinations. Their products use organic ingredients, are gluten free, non-GMO, and vegan friendly.